KLI Colloquia are informal, public talks that are followed by extensive dissussions. Speakers are KLI fellows or visiting researchers who are interested in presenting their work to an interdisciplinary audience and discussing it in a wider research context. We offer three types of talks:
1. Current Research Talks. KLI fellows or visiting researchers present and discuss their most recent research with the KLI fellows and the Vienna scientific community.
2. Future Research Talks. Visiting researchers present and discuss future projects and ideas togehter with the KLI fellows and the Vienna scientific community.
3. Professional Developmental Talks. Experts about research grants and applications at the Austrian and European levels present career opportunities and strategies to late-PhD and post-doctoral researchers.
The presentation language is English.
If you are interested in presenting your current or future work at the KLI, please contact the Scientific Director or the Executive Manager.
Event Details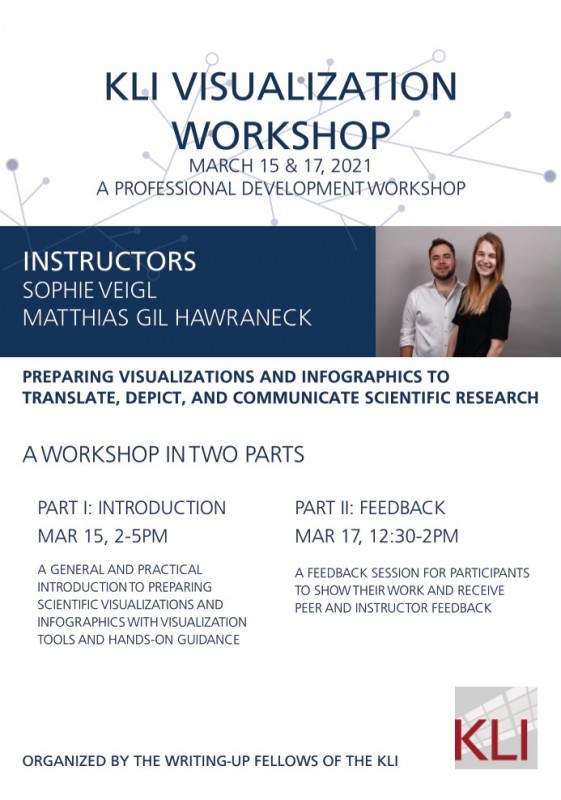 KLI Special Event
KLI Visualization Workshop
Sophie Veigl and Matthias Gil Hawraneck
2021-03-15 14:00
-
2021-03-17 14:00
Virtual meeting
Organized by Writing-up Fellows
The KLI Visualization Workshop is a professional development event with the aim to train our fellows to prepare visualizations and infographics that can translate, depict, and more effectively communicate scientific research.
The workshop has two parts:
Part I (MAR 15, 2-5PM) is a general and practical introduction to preparing scientific visualizations and infographics with visualization tools and hand-on guidance.
Part II (MAR 17, 12:30-2PM) is a feedback session for participants to showcase their work for peer and instructor feedback.