News Details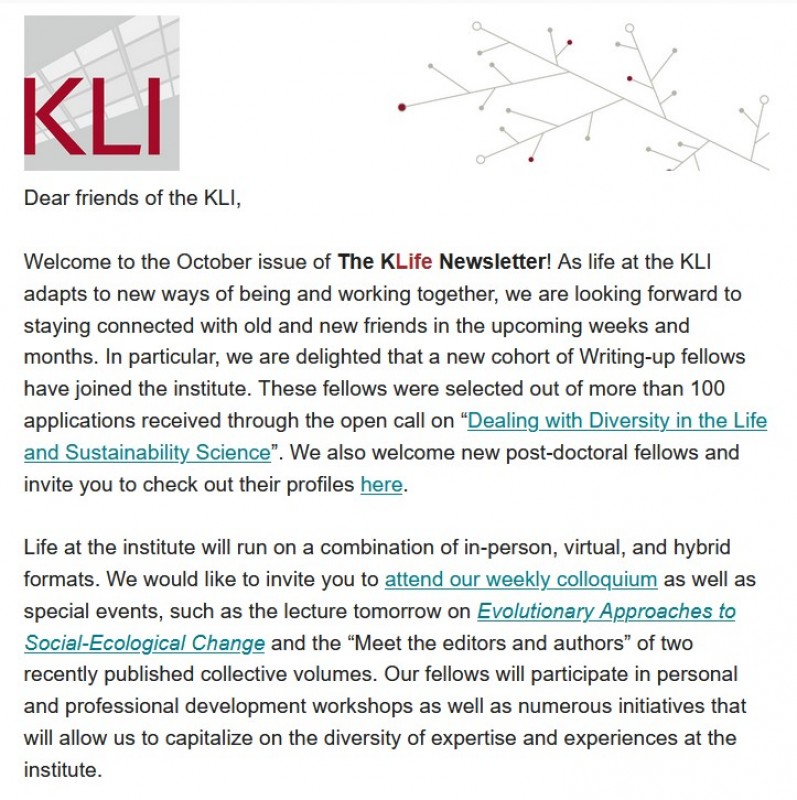 2021-10-07
The October issue of our KLife Newsletter is out!
If you're on our mailing list, you've already received the latest issue of the KLife Newsletter, showcasing life a the KLI. In this issue, we featured the following stories:
The 2021-2022 Fall-Winter Colloquium Series
Why citizen science is integral to infectious disease prevention
Cycle: an ode to parasitic nematodes
Resilience knowledge in action or resilience actions in knowledge?
The obstetrical dilemma: taking a closer look with Nicole Grunstra
Old ideas for current challenges: Ecological neo-Narodnism and the peasant economy in the 21st century
Neurodiversity and anthropomorphism in social insect research
Oxford Bibliographies entry on Evolutionary Developmental Biology
Understanding vaccine-hesitancy
Navigating intercultural relations in transdisciplinary practice
September issue on Evolution of Kinship Systems
And the ISHPSSB 2021 Werner Callebaut Prize goes to...
Subscribe here to get regular updates and to receive the December issue:
https://www.kli.ac.at/content/newsletter_subscription