KLI Colloquia are informal, public talks that are followed by extensive dissussions. Speakers are KLI fellows or visiting researchers who are interested in presenting their work to an interdisciplinary audience and discussing it in a wider research context. We offer three types of talks:
1. Current Research Talks. KLI fellows or visiting researchers present and discuss their most recent research with the KLI fellows and the Vienna scientific community.
2. Future Research Talks. Visiting researchers present and discuss future projects and ideas togehter with the KLI fellows and the Vienna scientific community.
3. Professional Developmental Talks. Experts about research grants and applications at the Austrian and European levels present career opportunities and strategies to late-PhD and post-doctoral researchers.
The presentation language is English.
If you are interested in presenting your current or future work at the KLI, please contact the Scientific Director or the Executive Manager.
Event Details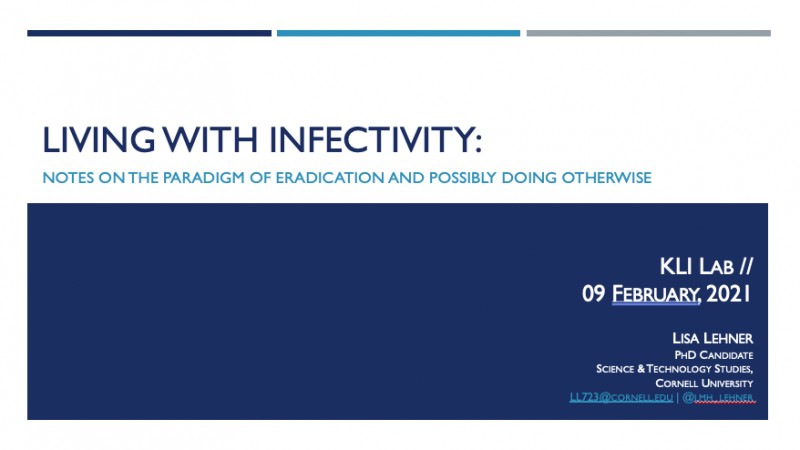 KLI Lab
Writing-up Paper Feedback: Living with Infectivity: Notes on the Paradigm of Eradication and Doing Otherwise
Lisa Lehner
2021-02-09 13:00
-
2021-02-09 14:00
Virtual meeting
Organized by KLI
Abstract
Given the ever-looming reality of the next pandemic threat, my project provides a fundamental re-conceptualization of the implicit social theory that undergirds current global health responses. I build on 18 months of extensive field research in Austria, studying the changes wrought on care practices and illness experiences by new Hepatitis C antiviral drugs, whose curative potential fueled an expansive global health virus eradication project. I integrate diverse social-science concepts to analyze the material and discursive mechanisms that animate particular forms of applying biomedical and epidemiological knowledge in contemporary society and global health politics. I will leverage my findings to conceive of a different kind of social theory of infectivity that accepts not just the reality of large-scale and globe-spanning viral infections, but also responsibility for a connected global society. I argue that the way we address and live with infectivity is integral to the way we choose (or not) to live as a society. In turn, changing our ways will unleash the full systemic potential of the life and social sciences to meet infectious challenges present and future.